http://vimeo.com/37541339
Catch a sneak preview of this promo for the Twelve Seventy film before the official screenings.
Twelve Seventy produced and directed by Neville Gabie and Dan Farberoff.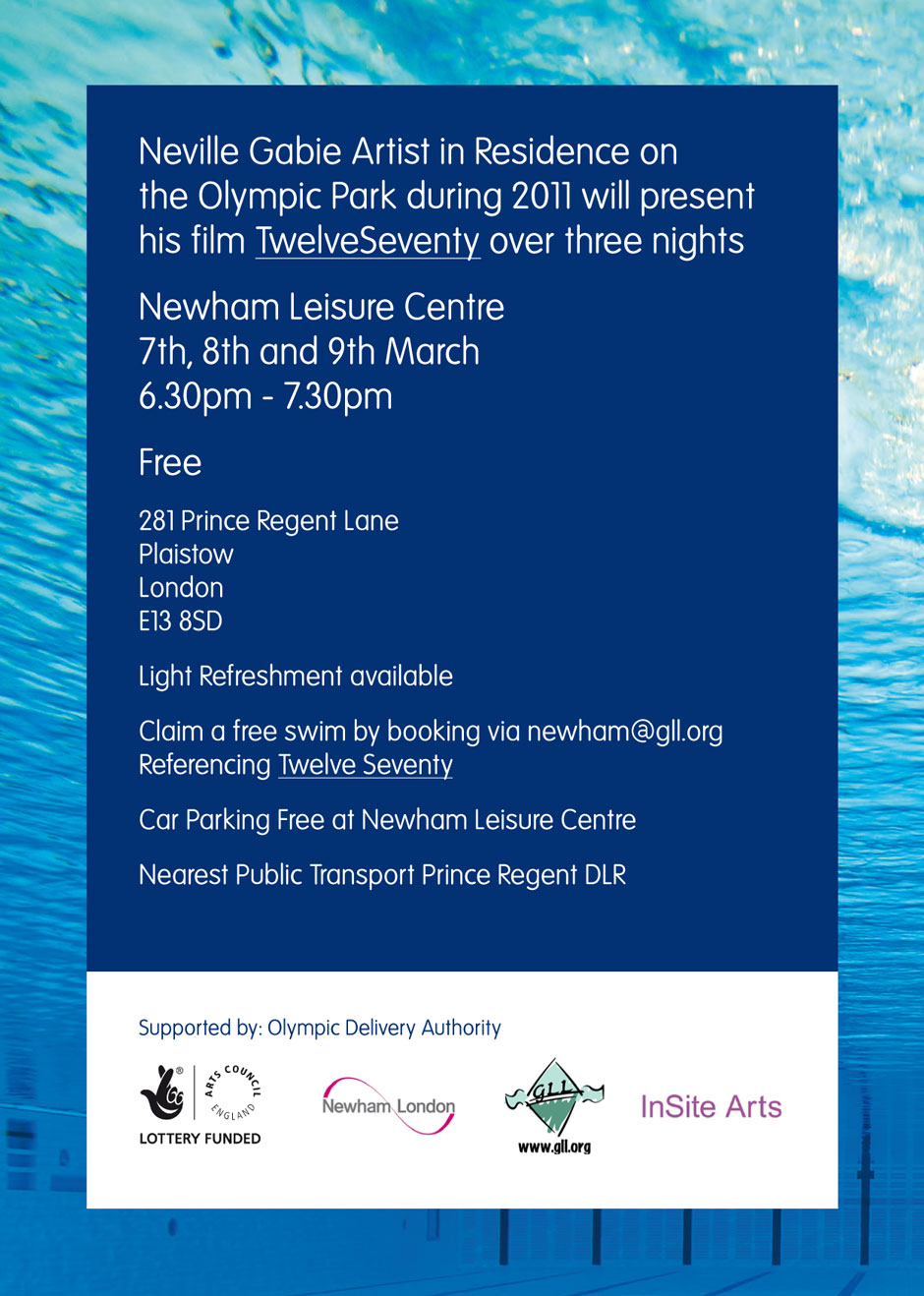 Neville Gabie Artist in Residence on the Olympic Park during 2011 will present his film TwelveSeventy over three nights
Newham Leisure Centre, 7th, 8th and 9th March, 6.30pm – 7.30pm Free
281 Prince Regent Lane, Plaistow, London E13 8SD
Light Refreshment available
Claim a free swim by booking via email hidden; JavaScript is required Referencing Twelve Seventy
Car Parking Free at Newham Leisure Centre, Nearest Public Transport Prince Regent DLR
Media release: Olympic Park artist captures spirit of Games in film of site bus driver swimming length of her route in London 2012  Aquatics Centre
A film created by the Olympic Park's Artist in Residence, Neville Gabie pays tribute to the contribution of local people in delivering the London 2012 Games by showing a site bus driver swimming the length of her 1.3km route in the Aquatics Centre.
The Arts Council-funded piece, entitled Twelve Seventy, gives a personal insight into the ordinary jobs that are as much a part of the story of the Games as the athletes competing next summer.
Neville Gabie researched and made the film as part of a series of commissioned works during a 15-month residency on the site that is being supported by the Arts Council England and the Olympic Delivery Authority (ODA). ( should we add the exhibition at the View Tube which is on until 18th March which has a range of works developed during the residency)
Neville filmed Semina (Sam) Yousef – one of a team of 30 bus drivers on the Olympic Park – swimming the distance of her 1,270-metre route in the 17,500-capacity venue. The distance is equivalent to more than 25 lengths of the 50-metre competition pool.
Sam who originally came from northern Cyprus now lives in Leytonstone, East London, and became a bus driver after receiving funding from the ODA's Apprentice Scheme, which enabled her to apply for a driving licence. She had previously worked as a swimming instructor and lifeguard.
Olympic Park Artist in Residence Neville Gabie said: "As just one of the thousands of individuals with their own life stories and reasons for working on the Olympic Park. Sam's story gives us a snapshot of some of these characters; those people who have all played a part in its creation. They are some of the best known faces of the Olympic Park during construction, the first people you see on entering the site and the last before leaving.
"I first met Sam on a bus travelling between South Plaza and the Aquatics Centre construction site.  She had previously worked as a swimming instructor and life-guard and is passionate and serious about her sport, so I thought it would be interesting to combine her love of being active with the theme of being part of the Games. It is about Sam as an Individual, Sam as part of the East End community and Sam as part of a team of drivers."
Sam Yousef said: "I felt privileged to be able to swim in the Aquatics Centre. I have always wanted to be an athlete and this made me feel like one. It was really emotional and will be something I will always remember. I could have stayed in there forever."
Simon Wright, ODA Director of Venues and Infrastructure, said: "Since construction started in 2007, the bus drivers on the Olympic Park and Village have been a constant and essential part of the workforce.
"Sam's story captures the Games ethos of being 'part of it'. It's an amazing achievement for her to have swum over 25 lengths in the Aquatics Centre and highlights the role of local people in delivering the Games. The ODA's Arts and Culture programme has played an integral role in capturing these hidden stories, and in engaging and involving communities throughout the project."
Moira Sinclair, London Executive Director of Arts Council England said:
"This summer we will see elite, almost superhuman, athletes performing on a world stage in London. Neville's work captures the people that will make all this possible; the cornerstones of great Olympic feats that don't make the headlines. 2012 is a celebration of sport, culture and London – but also of Londoners who make it the great city that it is."